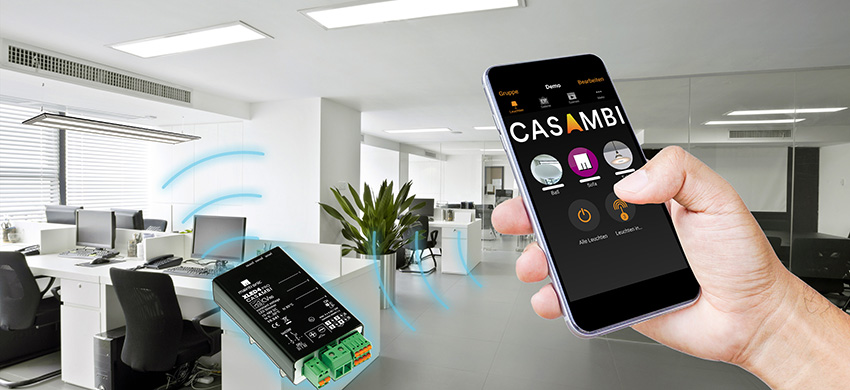 maintronic makes efforts in the bluetooth world!


LED ballast for comfortable and flexible control of LEDs with constant voltage (usually LED strips) through a smartphone or tablet. Additionally DALI integrated, depending on the operation mode 1 to 4 channels.
Additionally DALI is integrated, depending on the luminaire profile 1 to 4 channels.
With the integrated key input any Casambi device can be remotely controlled.

1-4 CH LED-dimmer constant voltage
Control with Casambi, DALI / Push Button
4,4A / CH | 17,6A max. output current
Plus Features: variable Fadetime and
Dimmspeed, Soft-Off

Casambi as a DALI extension
The special feature is, in addition to the app operation for the private or personal environment, the dimmer is also equipped with interfaces such as DALI or PushButton. It opens completely new possibilities for institutional users.
Control
The dimmer can be controlled parallel with DALI and Casambi.

For example, the building lighting management system can take over the general control via DALI. In addition, every user can make individual settings on site via smartphone.

The dimmer keeps track of the hierarchy that the last one wins. This means that the last set brightness remains until the next change.
It is also possible to use the Dimmer DALI input alternatively as a PushButton input. For this purpose, the mains voltage (L and N) connected to the DALI contacts. All channels are dimmed evenly.
Channel-Link
Channels could be linked together for a higher output current than 4,4A. With a maximum of 17,6A (24V DC). Linked-channels works as a single combined output. A linked-channel group has one DALI short-adress.
Protection circuits
Over temperature, overload, short circuit. Requires external pulse-proof and stabilized power supply.
Installation
Installation housing (INS) for ceiling, wall or cavity mounting in dry interiors.
Optional DIN-Rail mounting with an rail mount kit.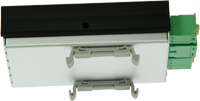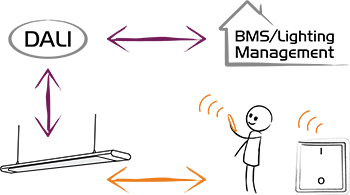 RGB+W / Tuneable white
Tuneable white LEDs (change the light color) or RGB + W can easily be controlled and dimmed with the XLED.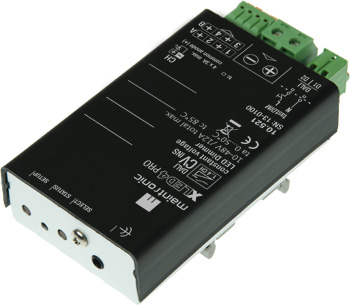 Constant Voltage (CV)
The used power supply has to be pulse resistant and stabilized. Use a Power supply voltage according the rated voltage of the LEDs. Compliant with common DALI controller and gateways.