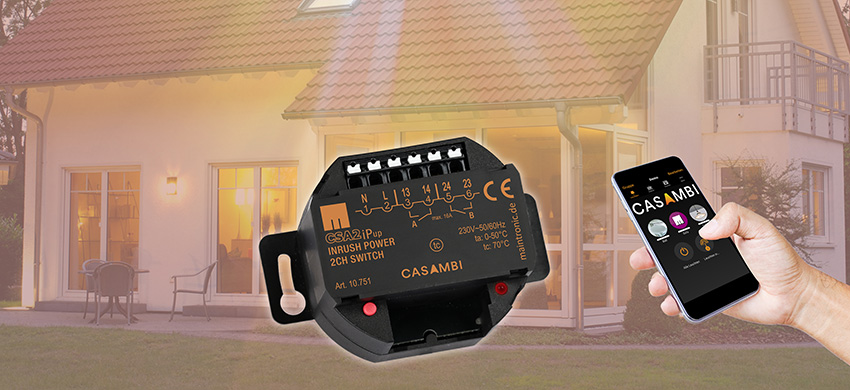 Two channel switch actuator with normally open contact for integration of any load into the Casambi wireless network. For loads with a high inrush currents under capacitive load shares (165A /20ms).

Automate your enviroment with Casambi ready sensors. With your tablet or smartphone controlling and configuration such as control time functions is very convenient and easy.

Extended comfort functions such as long key, toggle, scenes and group functions.


2x normally open contacts 16 A 230V AC
Inrush current upto 165A/20ms
Energy saving bistable relays
Casambi enabled wireless switches
Rich timer features

High inrush current
Current peaks up to 165A.

Potential free contacts
2 normally open inputs.

Group devices
Create groups for joint control.
Timer features
Run blinds with specific time.

Casambi enabled wireless switches
Wireless Switch for fixed installations.
Possible applications
The switch actuator with Casambi connection can be used to remotely control devices such as lights, gates, etc. very comfortable with the smartphone.
Examples:
Lights that are not protocol-capable

Decorative lighting

Garage door

Audio amplifier

...