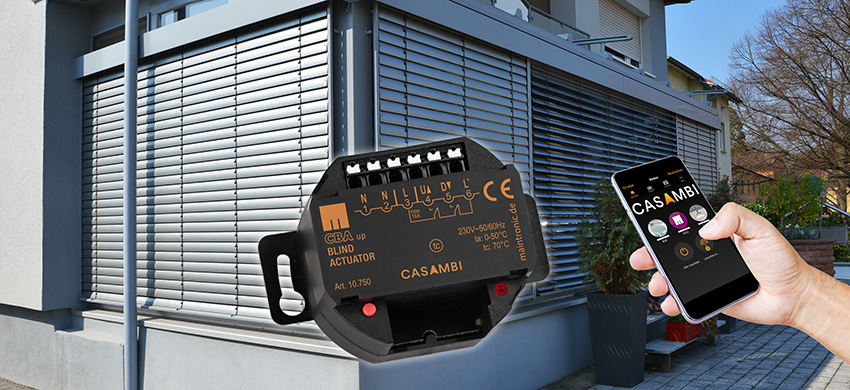 Casambi blind actuator for roller blinds / blinds / awnings. Automate your enviroment with Casambi ready sensors. With your tablet or smartphone controlling and configuration such as control time functions is very convenient and easy. Safe operation, forget sticking relays thanks to built-in mutual locking.

Quick installation due to a compact terminal, all internally wired for motor connection cable. Extended comfort functions such as longpress, toggle, scene and group functions.


Blind actuator for roller shutter,
blinds, awnings, ...
Wireless controlled by Casambi
Local control with
external blind switch
Casambi enabled wireless switches
Rich timer features
Flush-mounted housing

Group devices
Create groups for joint control.
Timer features
Run blinds with specific time.

Astro function
Drive the blind to sun times.

Secure motor control
Hard and software interlocked due to two 16A positively driven changeover relays.
Weitere Ansteuerungsmöglichkeiten:

Casambi enabled
wireless switches
Wireless Switch for fixed installations.

Local control
Seperate output for external blind switch.